So I had intended to take a picture to document my happenings at
10:10 on 10/10/10
....cause I'm silly like that...but it was about 10:24 before I actually remembered this idea. Oh well, it would have been an uninteresting picture. At 10:10, you would have found me in my pj's (which are not exactly camera appropriate) in bed with my ipad reading
this book
for my grad school class. Exciting stuff. I'm not about to wait until 10:10 pm to take a picture either, you will likely find me doing much of the same thing anyway. So instead my friends, you get another one of my famous lists. I know, aren't you lucky? Not another list you say, but this is a special list...I give you
The
10 on 10/10/10
(posted at 10 something am):
1. Slept in today (8:55) and stayed in bed until almost 10:30, though I was technically doing school work it was still nice and cozy.
2. I am eating leftover pumpkin cake for breakfast. I know, bad kid, but YUM!
3. I will spend much of today doing laundry, cleaning, lesson planning and working on my classes. Yet another exciting Sunday at my house. Shawn and I do have an exciting outing to Super Target planned this afternoon however.
4. Hoping to get my Halloween/Fall decor out and settled one of these days.I miss my glitter pumpkins. I'd love to clean my courtyard and get some fall flowers too. Maybe this week, in between teaching, prepping, meetings and Dr. appointments...
5. Am in desperate need of an Anthro trip to indulge with my birthday coupon. If nothing else I need to go visit the coats and pretend I live somewhere cold enough to justify buying yet another coat....I fully admit I have a coat obsession, but really, just look at these beauties: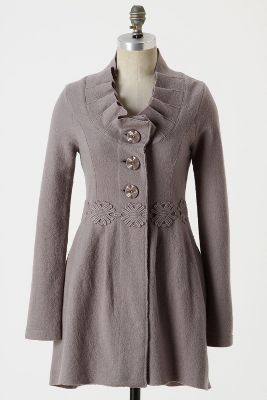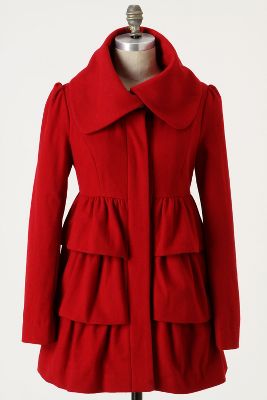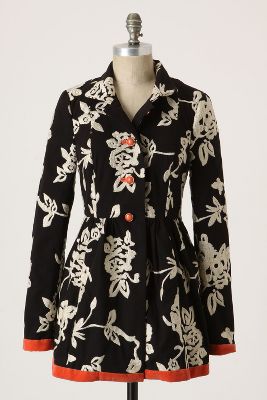 6. What I would really like to do today instead of the items mentioned in number 3 is scrap (I was invited to play with a few friends and had to say no), bake pumpkin goodies, play halloween decor and knit. Doesn't that sound like a much better day than what I have planned? I'm vowing right now to spend at least part of my winter break doing crafty things and baking. You can hold me to it.
7. Speaking of crafty things and holidays, have you seen Ali's preview to
this year's December daily
? LOVE. I have done the December daily twice, but decided not to last year. I'm pretty sure given my hectic schedule its not happening this year, but I sure do get inspired by Ali's posts each year. Love the simple framework and the transparency idea. Maybe I'll do a quick and easy digital version? Who am I kidding, I still haven't finished my week in the life from months ago and am months behind on Project 12.....
8. Still thinking of last nights delicious dinner at
St. Francis.
I've been meaning to go to St. Francis for awhile, as my mom and sister rave about it. A late birthday dinner with just the two of us seemed like the perfect opportunity. It was pretty crowded when we got there, kind of a hipster, trendy sort of place. We waited for about 40 minutes in the bar for a table, enjoying a glass of wine and the cool weather. By the time we were seated at a little outside table, the crowds had died down, which was nice. I enjoyed the roasted salmon, served on red quinoa with tomatoes and avocado (delish) and Shawn had the fig, arugula and blue cheese flatbread and 1.5 servings of cornbread on the side (both were quite tasty). In fact, I'm hoping I can convince Shawn to share his leftover flatbread with me today. Sadly they were out of the chocolate cake with caramel sauce and peanut butter gelato for dessert. We opted for a vanilla cream cake with caramel and vanilla gelato, which was tasty, but definitely not chocolate and peanut butter.
9. Am hoping Shawn follows through with his offer to make today cleaning day. I'd love to have a few boxes, piles and projects removed. Clutter definitely doesn't help my stress levels.
10. Thinking of pumpkin recipes and crossing my fingers that soup weather is not too far off. Things have definitely cooled off around here, but its not quite soup weather. Looking at the forecast for the week, it looks like 90's are returning, which I'm not too thrilled about. At least the mornings and evenings are cooling off nicely and we can pretend its fall for part of the day. Wishing I could make another Halloween visit to OR this year to enjoy the wonders of fall. Maybe next year.
Ok, I've officially spend way too much time on this version of the 10. Now to check 10 things off my to do list for today....
Happy 10/10/10!