Today's 10 is kind of random. Things you'd find if you were in my head today.....

1. Got a lot of stuff done this weekend, including scrappy DT work and some paperwork, but this morning, my extra bedroom/office space looks like a giant mess with piles of paperwork everywhere. I'm working on some organizing and updating with work and house files. It's a bit scary right now. Now to finish this project......

2. I have declared this summer the "get it done" summer. I've got big plans to work on lots of in progress projects and cross some of those "someday" to do's off my list. So far I've finished my Week in the Life album and gotten started on the office organization/paperwork project. We'll see how much I actually get done.

3. Spent the morning working on this page for Scrapgal's Summer BBQ Relay Race. I used Studio Calico's Playground kit. I love how it turned out.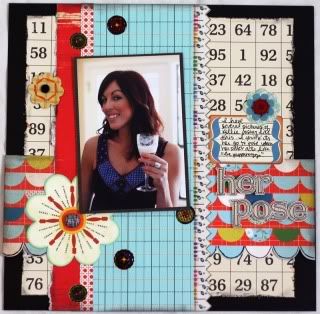 4. Looking forward to an upcoming San Diego vacation. Beach here I come!

5. Enjoying the 90 weather and hoping it lasts. Looking forward to a few monsoon storms soon.

6. Hoping we continue to develop a relationship with our new friends whom we BBQ'd with on Sunday. We had a lot of fun at their house.

7. Torn between wanting to read, wanting to knit and wanting to scrap. How to divide my spare time so I can do it all?

8. Working on a fun summer mini album, which I will share some time next week.

9. Contemplating a few sewing projects and hoping I can recruit my mom to help me.

10. Liking my summer schedule, which has me getting home earlier than normal two days a week.